About
---
The Moonhanger Group's Dovetail has established itself as one of Macon's most critically-acclaimed restaurants. Located in the center of a re-emerging downtown district, Dovetail serves uniquely crafted, southern cuisine. With dishes inspired by seasonal availability and traditional southern fare, our chefs use their expertise to highlight character and flavor, creating an experience that is familiar to any southern dinner table, yet re-imagined in a rustic and sophisticated dining room that speaks to the strong agrarian history of Georgia.
Founded in October 2012, Dovetail has been featured in Southern Living Magazine, Atlanta Eats, Macon Magazine, and has received Opentable.com "Diner's Choice Awards" for Most Booked in Macon, and American Cuisine in Atlanta/Georgia. Dovetail is part of the Moonhanger Group's line-up of engaging Macon destinations that include sister restaurants, The Rookery, H&H Soulfood, Natalia's, and the classically restored Hargray Capitol Theatre.
Our Food
---
Our Purveyors
Comfort Farms
Forrest Grove Farm
Hardy Farms
Babe & Sage Farm
Salamander Springs Farm
Springer Mountain Farms
Our Bar
---
Each time you visit the Dovetail bar, a unique experience awaits. At Macon's classic cocktail bar, rustic meets sophisticated in unexpected ways. With respect to our Southern heritage and culture, Dovetail offers a selection of over 70 distinctive whiskeys. We stock a vast array of spirits to please any palate. Bar guests have the opportunity to select from a cocktail list personally curated by our passionate bartenders. For beer lovers, we offer everything from domestic favorites to unique local brews, crafts, and imports. Wine enthusiasts rejoice! Dovetail offers one of the best by the glass selections in Macon. For the discerning palate, we also offer rare varietals. Whether it's whiskey, wine, cocktails or beer, we will pour you the perfect drink.
Private Dining
---
For any special event or occasion, be it business or casual, Dovetail has the perfect space for you. Our wine cellar room has a maximum seating capacity of 24. We have a 60-inch, flat screen HD TV, DVD player, and Wi-Fi. Also VGA, HDMI, and RCA connections are available to accommodate any technical needs.
For reservations and scheduling, contact Kevin Bryant at 478.238.4693 or via email at kevin@moonhangergroup.com.
Chef & Team
---
Kevin Bryant
General Manager
Read More
Kevin Bryant bartended his way through school, obtaining a Business Management degree from Macon State College. Bryant has worked in the service industry for over 15 years, in hospitality for a decade, and in management for over 5 years. He enjoys a wide variety of music, and is a sports enthusiast. His passion for service shines in each interaction with our guests. Bryant is excited to lead this sophisticated, yet approachable arm of the Moonhanger Group.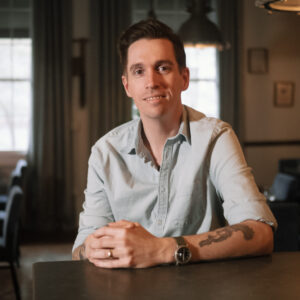 Lane Richardson
Executive Chef
Read More
Chef Lane graduated from Helms College in Macon, GA. He grew up watching his grandmothers grow, cook, and preserve foods with Pennsylvania Dutch as well as traditional Southern methods. He aspires to bring happiness to people through food as they did. In his spare time, he likes to hike and forage for ingredients to bring into the kitchen, play music, study history, and spending time with his wife and two children.
Katie Cronon
Sous Chef
Contact
---
HOURS:
SUNDAY – THURSDAY:
5:30PM – 9:30PM
FRIDAY & SATURDAY:
5:30PM – 10:30PM